NEW LINE - BHUTANESE IMPORT
It all began a few years ago in Hannover, Germany, when Mrs. Cornellia Nicolay-Danisch, who was already a Tibbie owner, met Mrs. Martina Krueger and her three wonderful original Tibetan Spaniels, originated from Bhutan. After some years of trying to register them in Europe in 1998 two of these dogs were finally FCI registered. These are:
Chotu, male, black&tan (and white), birth date 14th of November 1989.
Breeder: Uma Gazder, Calcutta, India. His parents are unregistered (but description and photos available) dogs from Bhutan: father Minky and mother Owlly.
Owner: Mrs. Marina Krueger, Hannover, Germany
Silvie, female black&tan (and white), birth date 21st of January 1993.
Breeder: M. Krueger and P. Sewitz, Calcutta, India. Her father is Chotu, her mother is Lauli-La, unregistered full sister of Chotu.
Owner: Mrs. Marina Krueger, Hannover, Germany
The reasons that brought us to decision to register these two Bhutanese Tibbies are that they are fit physically and even more mentally, having the most enchanting and perfectly balanced temperament we have seen among dogs for years. We have quite a lot of information about three generations of breeding within this line and also photos of every dog. All dogs of this line are definitely of the same type so they are not stray dogs just resembling Tibbies. Their characteristics: overall structure, head type (a bit longer but strong and not pointed muzzle, non-weeping medium sized eyes), really typical coat and already mentioned temperament, are much needed in western Tibetan Spaniel breeding.
We do hope that these dogs will be, when carefully introduced to breeding, a good and healthy asset to the breed.
Chotu's first registered litter was born in Slovenia in March 1999. The mother was our homebred Moetica Cremissimo Damillion (Ema). There were three puppies, a girl and two boys. Now all three live with Tibbie breeders in different parts of Europe.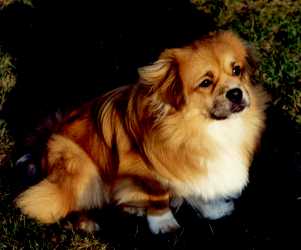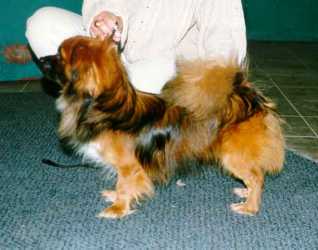 The girl Moetica Chotu Kori-La Rombon (Toya) lives with the initiator of the whole idea Mr Primoz Peer in Slovenia. The boys live far away: Moetica Chotu Cintu-La (Cintu) lives with Mrs Cornelia Nicolay-Danisch (a friend of Mrs M. Krueger) in Germany and Moetica Chotu Dasho-La Seduhin (Edu) travelled with Mrs Päivi Säviaho to Finland.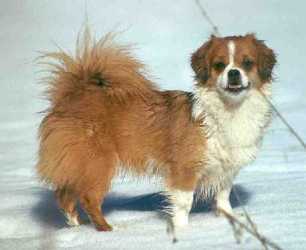 Toya was mated to Ch Cho-Oyu Modra Pisnicka. She gave birth to three puppies - a boy and two girls. Here are photos of puppies 14 days old.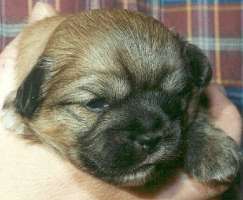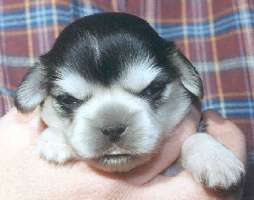 Primoz Peer & Maja Korošec